DashBoard Overview
---
The Dashboard
The dashboard is the page you is where you land after login into the system. General-purpose functions, statistics, menu and buttons are located on the page. Namely:
Top Menu Bar - located at the top of the page - block_1 in the picture
Usage Statistics - located left side of the page - block_2 in the picture
Options (actions) Drop-down with selectable menu items - located right of usage statistics - block_3 in the picture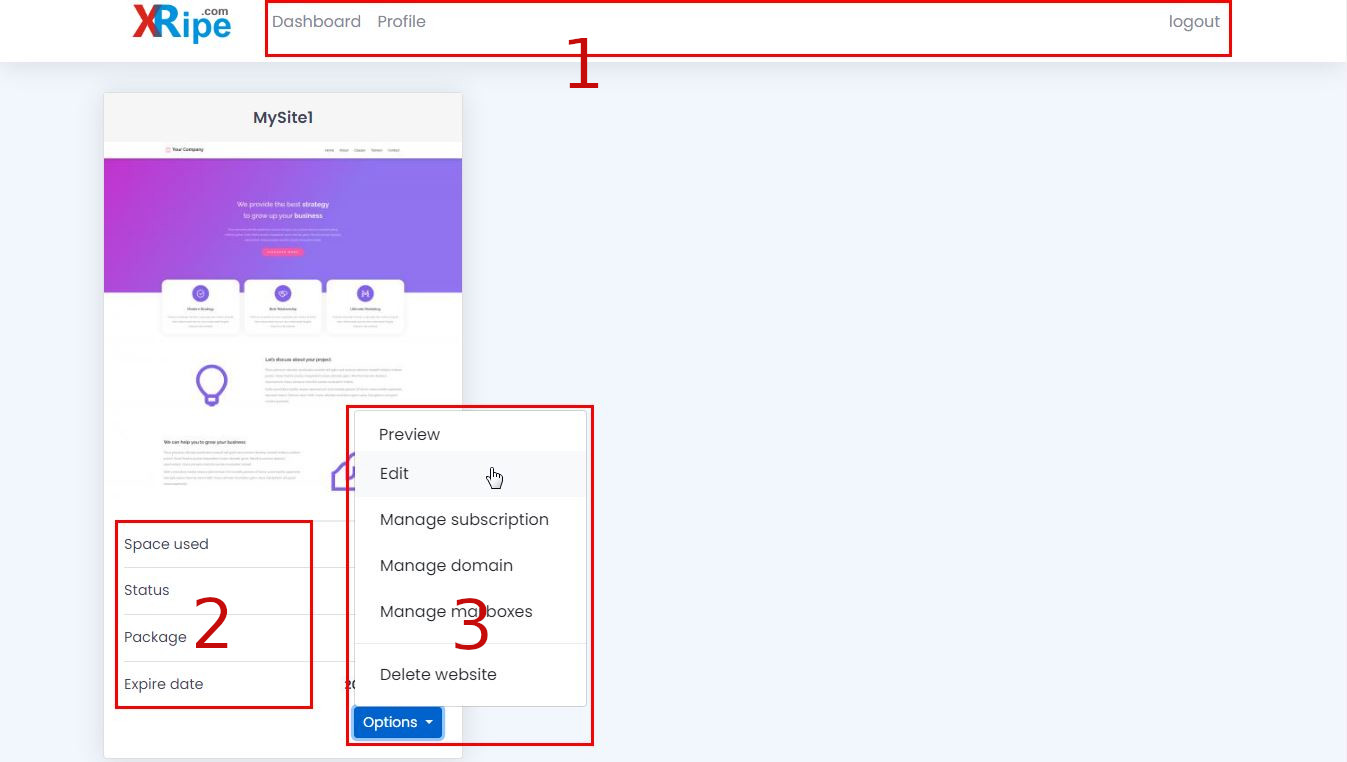 Top Menu Bar (block_1)

Profile
Your personal data including login, password and email address
Logout
Self-explanatory. Log out of the system.

Usage Statistics (block_2)

Space used
Total disk space used by your website(s)
Status
Your account status: Active, Waiting Activation or Suspended
Package
Your subscription package or plan
Expire date
Subscription period of validity

Options (actions) Drop-down (block_3)

Preview
Opens a new window to preview your compiled website, exactly how it will look after publishing/hosting
Edit
Directs to Website Constructor, where you can make modifications to your website project
Manage Subscription
Opens a modal dialog with form to Upgrade or Downgrade your subscription, make payment if necessary
Manage Domains
Opens a modal dialog with form to Connect your custom domain and assign it to the current website for publishing/hosting. There is also an option to use XRipe Website Builder subdomain
Manage Mailboxes
Opens a modal dialog with form to create/delete mail account(s), without leaving the page to go to your hosting account panel with XRipe
Delete Website
Deletes the currently selected website and free disk space. Action irreversible!
---